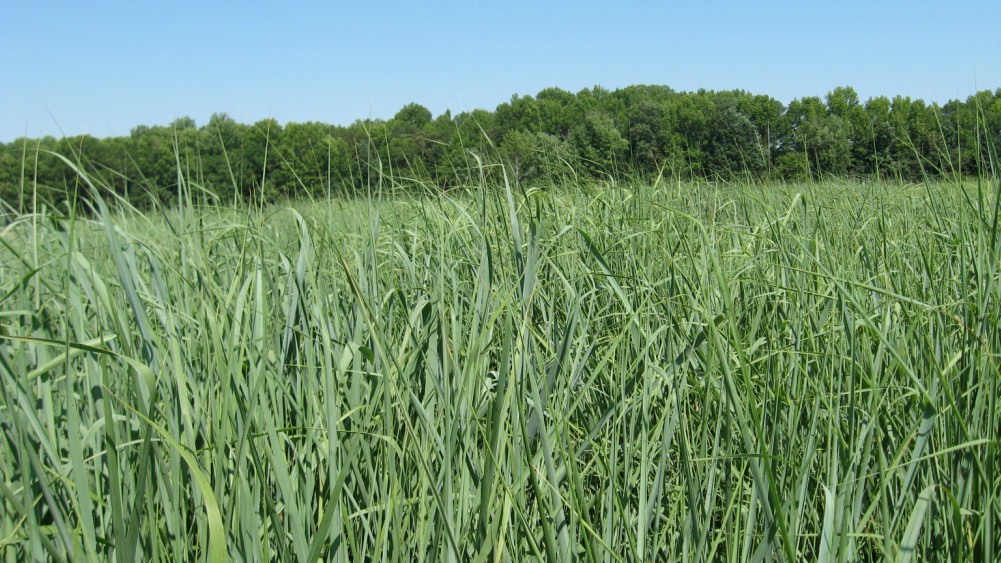 Switchgrass is a native warm season (NWS) perennial grass that is often grown as a forage crop, natural wildlife habitat, or, increasingly, as a bioenergy crop. Switchgrass can grow to more than 10 ft tall and well-managed stands may last for decades. Once switchgrass is established, its bunch-type growth habit makes it very competitive with weeds. However, it is not considered to be invasive.

The natural distribution of switchgrass spans throughout much of the USA east of the Rocky Mountains. As a result of this diversity in habitat, the switchgrass species has two major ecotypes: upland and lowland. 

Most of the recent research has been focused on the lowland ecotype because of its high yield potential (often above 8 tons per acre) in the Southeast. Lowland varieties are also better adapted to the soils and conditions in this region. Switchgrass can grow in nearly all well- or moderately well-drained sites in Georgia. Although switchgrass does best in fertile soils, it is widely adapted to extreme soil pH (5.0-8.0), low soil P (>10 ppm or 20 lb/A), low soil K (>90 ppm or 180 lb/A), and is also drought tolerant.
Characteristics
Switchgrass produces short rhizomes and forms a "clumpy" or bunch-type growth habit. As a warm season species, it produces most of its growth in the summer months. However, it will initiate growth in April and continue growing until late September or October.
Switchgrass has several distinguishing features that help with identification (see image below). These include:
Flat leaf blades with rough margins*
Leaf sheath is round, smooth, and split with hairy margins
The ligule is a fringe of hairs
No auricles are present
Creates an open panicle seed head (inflorescence) that is 15-20 inches long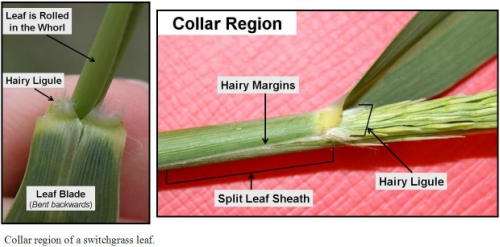 More Info on the Native Range and Characteristics of Switchgrass
* For more information on anatomical terminology for grass plants, view an illustration of the "Parts of a Grass Plant.")
Photo Credit: The photograph (top) of switchgrass is from Southern Forages, 4th Edition. This copyrighted (2007) photograph is used with permission from the authors of Southern Forages and the book's publisher, the International Plant Nutrition Institute (IPNI). The photographs have been adapted for use by the authors of this publication, who wish to acknowledge and express their appreciation to Drs. Don Ball, Carl Hoveland, and Garry Lacefield, authors of Southern Forages, 4th Edition, and Don Armstrong of the IPNI for their willingness to allow the use of these photographs.
Switchgrass Closeup